Free Book Download:
Your Pathway to a Scaleable and Profitable Agency
THE METHODS AND PROCESSES I'VE USED WITH AGENCY CLIENTS TO GENERATE 7-FIGURES PROFIT PER PARTNER PER YEAR
The Agency Blueprint:
The Business System That Leads to Success

You created your business to escape from the drudgery of the 9-to-5. This was your ticket out of the rat race and into the life you always dreamed about.

But it hasn't quite worked out that way.

While you're now calling the shots, you're also dedicating even more of your most valuable resource to your business – time! In this book, you'll discover the blueprint that will help you to create a systemized business. And it is those very systems that will help you to a build a business that serves your life.
Are you ready to create your dream business?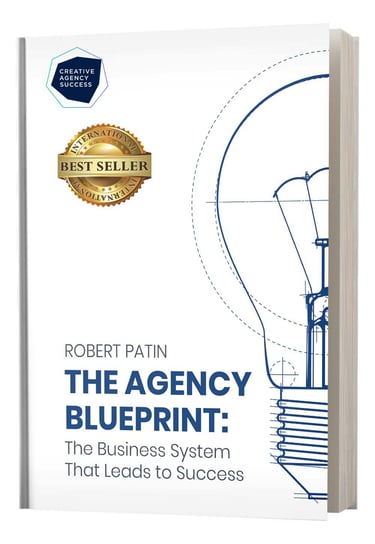 Robert Patin
Fractional CFO & Business Coach
Robert is the Managing Partner and Founder of Patin & Associates and the Author of the international best-selling book The Agency Blueprint.
His focus is working with clients to manifest their dream business into reality, with a foundational principle that simplicity is best. Though decades of experience working in finance and over a decade working with Creative Agencies he is able to expertly partner with clients to guide their businesses to achieve their goals.
"Wow! I loved this book, very inspiring and informative! It effectively highlighted many issues that I wish to look into for my business to excel further! Would highly recommend." Penny W
"Reading this book provided many insights into how I can transform my business. I am looking forward to getting started using this advise as I really think it will have big positive impact on my business and my day to day life." Miriam H
"I am impressed with the thoroughness yet easy to understand suggestions brought up by this book! The author has really covered all the bases needed for success! Highly recommend this as a good business bible!" Chris J (Los Angeles, CA)
"An engaging, practical guide to creating a successful company and the lifestyle of your dreams." Sheena V (Orange County, CA)
"Robert has created an indispensable guide for how to create not only the business you want, but the life you want. This book will show you how to restructure your team, streamline internal processes, and set clear and attainable goals for long-lasting success." Whitney B
"This book made me realize we need to completely reimagine our strategy in order for our business to be successful and let us live the way we always wanted." Los Angeles, CA
"This book is informative and succinct. It has useful tips that will improve your work/life balance. The business plan provides flexibility and encourages reflection to develop a business model that works for you. It ultimately enables you to have more personal freedom and a healthy business." United Kingdom
"Reading this book provided many insights into how I can transform my Agency. I am looking forward to getting started in implementing its tactics. Once I am done my business and life will be lightyears better." United Kingdom
"Once you start reading, you'll want to highlight away, as each chapter will walk you through practical and strategic methods to optimize success in your business and personal goals." Victoria B
"Great insight and practical advice. Easy read and very informative." Shaina R
What You'll Learn In This FREE Book
"Robert is an excellent communicator, problem solver, and executor with a true knack for customer service. In my time working with Robert, he and his team were always readily available and responsive to my needs as well as client needs. His charisma is only surpassed by his ability to deliver. I highly recommend working with him and his talented team, and readily recommend him"
"Robert is the devil in the details and for someone dealing with your money this is exactly what you much have. In my 12 months working with Robert he turned a marginally profitable service based marketing agency into a very profitable company, giving this agency room to invest in itself and give its clients a better work product. If you are looking for results, Robert is your man."